Choosing a Wiring Harness

From DIY Hack To Professional
Tips When Choosing A Wiring Harness For Your CoolDrive Driving Lights

When selecting a wiring harness, look for one that has the following features for a fast and simple installation:
1. GOOD LENGTH
Long enough to allow for you to neatly secure the wiring from the lights to the switches in the cab. Too often, the cable is not long enough for the size of your vehicle or the location of the lights you want to install, requiring you to add extra wiring.
2. NEGATIVE/POSITIVE SWITCHING
This saves you the hassle of rewiring the harness if your vehicle is negatively switched.
3. WATERPROOF AND QUICK RELEASE CONNECTORS
Deutsch pin connectors make life simple and reduce the need for additional terminals or joining wires with solder.
4. CLEAR LABELS
Having the harness loom adequately labelled saves you trying to work out what colours mean or using a test light to determine wire purpose if all the wires are black.
5. FUSE SIZE
The inline fuse is adequate to power your lights – have a look on the box. If each light is drawing 10 amps, then you need at least a 25 amp fuse.
6. SLIM SWITCH LOOM
Having a slim design switch wiring loom than can pass through the grommet in the firewall easily saves lots of time and eliminates the need to retrospectively seal it.
7. PLUG AND PLAY PIGGY BACK CONNECTORS
many vehicles have HB3 or H4 headlight globes – so look out for corresponding piggy back connectors for a fast installation that avoids the need for stripping back and joining wires.
8. CONSUMABLES
screws for the relays, cable ties, spare terminals and wire taps should be included as this will save you a trip to the hardware store or an hour rummaging through the toolbox or shed.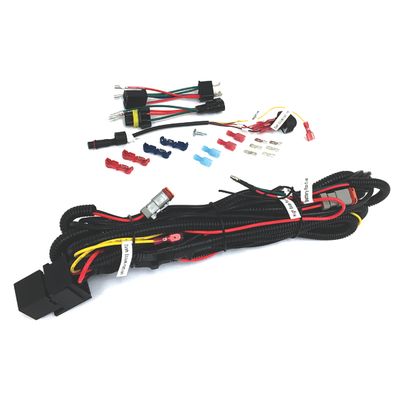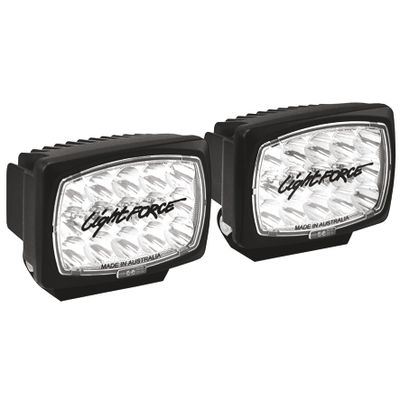 These Plug and Play Harness are available from CoolDrive.



With a Lightforce Plug and Play Harness, all you need to do is make sure you have the right tools and equipment within reach (outlined on the installation booklet) and it will all go smoothly.
Part No: STRIKERLEDHARN