Holden Timing Chain Stretch on HFV6 Engines
Technical tip explaining chain elongation application and diagnosis for the following cars:
• Commodore VZ - VE • Statesman WL - WM • Captiva CG • Rodeo RA
Excessive timing chain wear ultimately resulting in timing chain link elongation can cause the Malfunction Indicator Lamp Check Engine Light (MIL) to illuminate and generally the ECU will log the following fault codes.
P0008, P0009, P0016, P0017, P0018 and P0019. Evaluating these codes (see below) a strong relationship exists to "Crank and Cam Sensor Position Correlation" basically, Cam and Crank Sensor Out of Phase.
We have experienced various trends with respect to this condition affecting vehicles travelled 40,000 Kms up to approximately 100,000 Kms. Furthermore, this condition has been experienced with engines fitted with the 7.7mm pitch timing chain and not with the 9.5mm pitch chain which was fitted to earlier engines.
HFV Engines built after the engine numbers listed below, were fitted with the 7.7mm pitch timing chain.

H053340001 VZ - VE - WL - WM Commodore H051530001 CG Captiva H051580001 RA Rodeo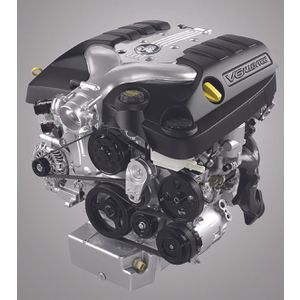 Fault Code Reference:
P0008: Engine position sensor bank 1 (bank 1 cam timing does not match crankshaft position sensor.)
P0009: Engine position sensor bank 2 (bank 2 cam timing does not match crankshaft position sensor.)
P0011: Intake variable cam timing solenoid over advanced bank 1
(actual valve timing is over advanced and PCM cannot retard timing.)
P0016: Valve timing out of sequence bank 1 sensor 1
(camshaft position sensor and crankshaft position sensor signals are indicating that cam timing is out.)
P0017: Valve timing out of sequence bank 1 sensor 2
(camshaft position sensor and crankshaft position sensor signals are indicating that cam timing is out.)
P0018: Valve timing out of sequence bank 2 sensor 1
(camshaft position sensor and crankshaft position sensor signals are indicating that cam timing is out.)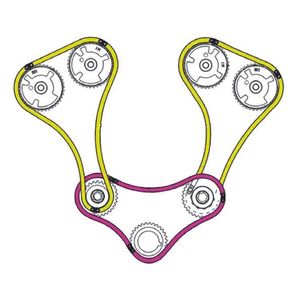 P0019: Valve timing out of sequence bank 2 sensor 2
(camshaft position sensor and crankshaft positiosensor signals are indicating that cam timing is out.)
Remedy:
Confirm the need to remove timing chains for further inspection. Once the used chains have been removed place on a flat dust free surface i.e. clean work bench, superimpose both the new and used chains in order to confirm diagnosis by comparing the overall lengths of both chains. Chain elongation maximum allowable limit is 3mm between new and used double up chains, this is an approximate measurement